THE ONLY PRAYER I HAD LEFT
Today's visit to the Orlando Women's Center can be described as a struggle between Light and Darkness, life and death. John Barros greeted us happily from the spot which he has faithfully occupied for the last 16 years, and briefed the first-timers on the rules: where we could or could not stand, what to say and how to reach out to the women, and then he led us in prayer.
Not long after, people started arriving. We looked to John to tell us whether this was a clinic worker, or a client, and then tried to offer help and hope to the women. Most hurried past us, into the brick building where they would pay to have the life of their child extinguished.
One couple that really struck me and still sticks with me was Asian. It wasn't the woman that I noticed so much as the man. He just kept smirking. I had the opportunity to talk to him briefly, to warn him about the reputation of this place, to urge him to stand up and protect his woman and child, and in response, he just smirked. I can still see it now, and it makes me angry! He didn't care, there was no part of him that cared, not about the woman, nor about the child. He was there in the coldness of his heart. It was so unlike a man last week, covered in tattoos. The tattooed man was angry, hostile, but at least in his anger I knew there was some feeling. Perhaps it was desperation born from trying to cover up an act of infidelity, or from feeling unable to be a father and provider. Perhaps it was guilt because he knew what they were doing was wrong, and he hated us reminding them of that. But anger meant emotion, and emotion meant there was still feeling. The tattooed man and his woman left without an abortion last week Wednesday, but as they didn't talk to us, we don't know if they decided to let their baby live, or if they just decided to go elsewhere.
The battle between life and death, Light and Darkness also became evident when a proudly pro-choice woman drove by, saw us, and decided she was going to spend her day battling against our efforts. She screamed at us for a bit, and then disappeared behind the clinic door to "support" the women there. Shortly afterwards, an elderly gentleman pulled along the curb and asked for our Einstein Bros orders, said he would get us anything we asked for as a token of his support and encouragement. He came back with a box of bagels and some coffees, and said he didn't want any recognition and wouldn't even give us his name. He was gone again as quickly as he came.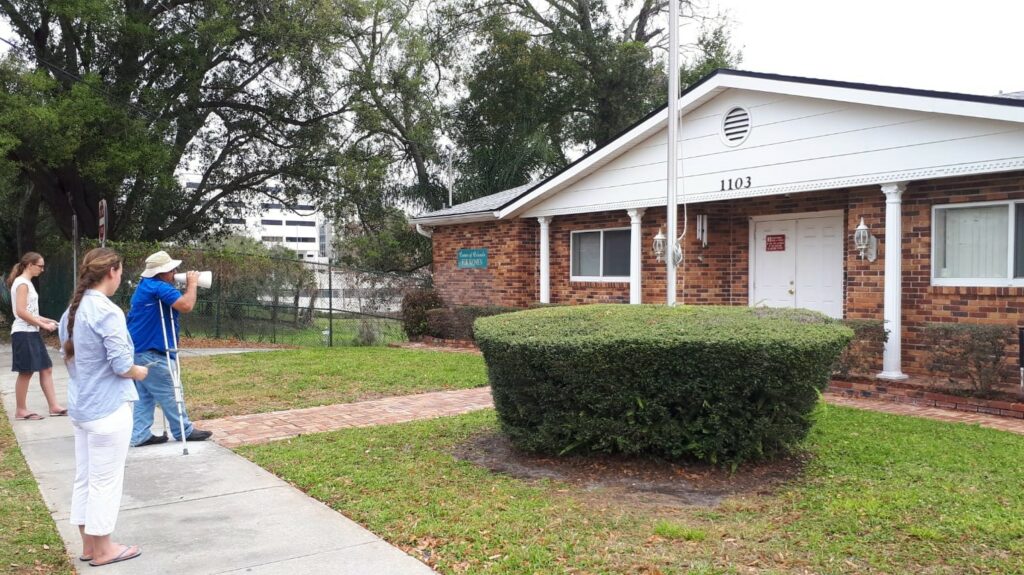 We reached out to everyone we could in the not-even-10 seconds we had as they hurried to the door, offering them whatever they needed to make choosing life for their child a feasible option. And none accepted. Then John spent some time preaching about death in Adam and life in Christ, about the punishment for sin, and how the Lord has never forsaken any that trust in Him. He shared about the women who changed their minds, walked back out of the clinic, and how not even one has ever regretted that decision. He spoke about how we are there because we love them and want to help them, and he begged that they would come talk to us. He instructed the men to be men and stand up for the ones they have a duty to protect: their women and children. He explained how we are not judging them by being there; that in fact it is them who are judging, judging their children not worthy of life and sentencing them to death. And then John put his bullhorn away and said to us that we can see how it is not our work to soften hearts and change minds, that it is God's power alone which can turn anyone away from abortion, and that it is God alone Who can save.
So again, you try to pray. With each person we had a few moments to try to reach, with each desperate and loving offer of help, you tried to pray. But it felt as though there was no prayer today. I don't remember feeling that at the clinic before. Today, all I could pray was "Help, Lord! Help!" It felt as though Satan had all the power there today.
So we turned to hymn singing. With each hymn, we hoped the power of God would prevail, that the words would reach the stony hearts within the building. "I need Thee every hour….Temptations lose their pow'r when Thou art nigh…. Or life is vain…. Teach me Thy will." Not knowing the situations these women were in, not knowing what made them feel that abortion was the best option, we sang songs that spoke to a hope during times of fear and need. "In Christ alone my hope is found, He is my light, my strength, my song; This Cornerstone, this solid Ground, firm through the fiercest drought and storm." Abide with Me, Rock of Ages, Amazing Grace. During this time, we saw women peeking out from behind the curtains at us, but no matter how we beckoned, none was moved from their evil plot.
Watching that, singing there, I began to feel sick. Was I just providing some pleasant music, a source of entertainment for the women as they waited? Did any of the words or meaning resonate at all? Based on the license plate, I knew one woman for sure identified as Christian, and given the stats, I wouldn't be surprised if more did. The thought of this precious truth just being used as entertainment for women hellbent on killing their children disgusted me, or even for women to deceive themselves with a comfort not offered to those who intentionally and knowingly choose to disobey God's commands, and I wanted to leave, to stop.
The abortionist arrived during this time, and then I remembered the babies. And thought about how close to death they were. And all I could do for them anymore was sing and pray. So I sang on, providing a soundtrack for their death, and thus I sang the final verse of Rock of Ages: "While I draw this fleeting breath, When mine eyes shall close in death, When I soar to worlds unknown, See Thee on Thy judgment throne, Rock of Ages, cleft for me, Let me hide myself in Thee."