I'm very frustrated.
Over the last several years, I've done quite a few presentations in different Christian communities (Ontario, British Columbia, Alberta) on sexuality and pornography. Each time I've given the presentations, I've changed them quite a bit, adding things I've learned, tweaking it based on the needs of the community and the feedback I've gotten. I've gotten anonymous emails detailing the struggles of porn addicts in Christian homes, and had anonymous letters stuck in the door of my home. The more I hear from the men and women and youth in the communities where these topics are presented, the harder I actually find it to speak on those topics.
Many of the things I hear make me angry. While it is legitimate to be angry about the use of pornography—it's much worse than just lust, it is sexual cannibalism, the one-sided consumption of a human being created in God's image for personal pleasure—one must be very careful not to slip into the sin of pride. When dealing with issues of sexuality, we can never say, "Well, that's not a sin I struggle with and thus I am somehow better than those who struggle with these sins." After all, in John 7 we see how the Lord Jesus dealt with those guilty of sexual sin, after challenging those who sought to stone a woman taken "in the very act" of adultery: "He that is without sin among you, let him first cast a stone at her." One by one, they left, "convicted by their own conscience." Jesus then said to her, "Neither do I condemn thee: go, and sin no more." Pride, we see in the New Testament and in the ministry of the Lord Jesus, was condemned far more harshly than sexual sin. We have to assist each other in becoming free from sexual sin, not set ourselves above other people.
My frustration is not simply the result of seeing just how widespread the use of pornography is, and how damaging it is. As I heard one speaker put it, those who do not think they are susceptible to sexual sin are saying they are stronger than Sampson, wiser than Solomon, and closer to God than David, the man after God's own heart. What frustrates me is that time and time again, men I speak to refuse to do what it actually takes to kick porn addiction and purge their minds of this scourge. In all cases, pornography is by its very nature predatory, perverted, narcissistic, and in direct opposition to how God created sexuality. It is, simply, self-inflicted destruction that contributes to the external destruction of so many of the lives that make up those de-humanized pictures. In cases where the man (or, in far fewer cases, the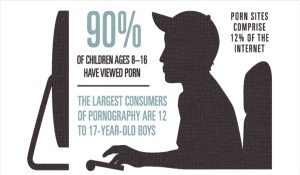 woman) is married, it constitutes adultery. This is not just our culture, our church, our own "little lust problem" or "bad porn habit." This is people consciously deciding to consume other people like a product, destroying their own relationships, twisting their perceptions of the opposite sex, and creating neural pathways in their brain that will often prove almost impossible to subvert.
Porn flourishes because people can nurture their obsession in private. No one looking over their shoulder, no one is seeing what they're seeing, and they have the opportunity to make whatever material they viewed virtually untraceable after the fact. That's why the one filter I always push for those who want to leave their porn addiction behind is an accountability filter — a filter that sends your Internet history every week to someone who will hold you accountable for what you viewed in the week past. I recommend this type of system (and there are a number of very good ones.) to everyone who tells me that they're struggling with pornography—but it never ceases to amaze me at how many want to talk about their porn problem, but don't actually want to kick it.
If you want to stop looking at porn, sign up for an accountability filter, and make your accountability partner—the person receiving your weekly history—your pastor, a church leader, one of your parents, your wife, your sister. Do you really think that you'll browse some filthy porn site if your minister, or a church elder, or your mother or wife, will see at the end of the week what you've looked at? Perhaps in some cases, there will be slip-ups. But it's generally very unlikely. With people you love dearly and respect much "looking over your shoulder" when you're on the Internet, it's almost guaranteed that you'll view your "porn problem" quite a bit differently—imagining how your wife or mother would feel if they realized what you were looking at would change your own view immediately and drastically.
When I suggest this step, I'm often told it's "drastic." No, it's not. Looking at porn is disgusting and predatory, and this solution is not at all "drastic" when put into the context of the problem. If you think that porn consumption is not a big enough deal to take "drastic" steps to get rid of it, then you haven't realized just how big of a deal it is. Yes, people can get around filters. You can decide to take one of your devices (cell phone, iPad) off of the accountability filter. But that's a choice—a choice to continue the sexual consumption of other human beings. You don't just "fall" into looking at porn.
Let me explain: I smoked cigarettes for close to ten years. For me to "fall into" smoking cigarettes again, I would have to get in my car, drive to the store, purchase the pack, take a cigarette out, and then light it. There are at least five conscious decisions that take place before I "fall into" smoking cigarettes, and am "struggling" with it again. The same applies to watching or looking at pornography again: You have to go home, or someplace where you can be alone, boot up your laptop or device, log on, search for whatever porn you're "struggling" with, and then view it. There are multiple decisions taking place here. While pornography addiction is incredibly powerful, you do not simply "fall into" viewing porn again when you're trying to kick the habit. You make a series of decisions that result in you viewing porn. You may be addicted, but you're not helpless. And I do get frustrated when I hear from guys that they're still "struggling," but they still haven't taken the drastic steps necessary to kick this habit. I'm sorry, you only get to say you're "struggling" if you're actually taking all of the necessary steps to get free.
Sexual sin is, in this day and age, one of the most common and destructive of sins. I understand that many people get hooked as the result of simply stumbling upon imagery on the Internet, or being exposed to it by friends, or even, in many cases, being exposed to it at a very young age in the home. But there are ways to free yourself from this addiction. There are people who want to help you get free of it, and people who won't judge you or think that they are somehow better. To say to someone struggling with sexual sin that those who struggle with different sins are somehow better would be to defy what the New Testament tells us. But you do have a responsibility to cease this destructive and disgusting habit. The help is available. The choice is yours.